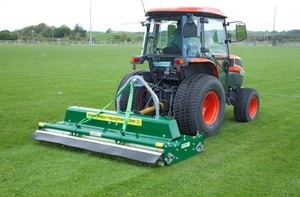 We recently undertook a new contract at the end of the Summer 2017 for new clients at the Puma Energy refinery in Milford Haven. This new contract saw us undertake flail mowing and hedge cutting on the fuel refinery site plus using a 6 tonne excavator on hire from ourselves.
We utilised our JCB Fastrac with Mcconnel Magnum 270, PTO Powered Flail mower plus our Doosan 7 Tonne Excavator with the Steelwrirst Tiltrotator, low ground pressure steel tracks and the Femac Hedge mulcher.
The contract consisted of mowing large areas of the refinery where grass and overgrowth had gone wild plus the intricate areas around the fuel terminals where special attention to detail was needed due to the nature of the tanks.
Our midi excavator (Doosan DX63 with LGP tracks) was also used on the permiter fence to cut and smooth the permiter road to allow site security vehicles to patrol more effectively than they were currently due to the rough nature and inaccessiable areas of ground. The machine was also used to cut hedgebanks back into shape to improve the aesthetics of the site as they'd got out of control. The Femac mulcher was then used to remove gorsebushes and thick brash which is key to improving and maintaining site safety which reduces the risk of fire due to the special nature of the refinery and the work that is carried out there.
Elsewhere on the refinery site. The 6 tonne excavator on hire was used to cut back lagoon banks and access roads which had become overgrown and in some areas, very wet proving difficult to reach with typical mowing machinery. We recut channels for the water to flow effectively to the lagoons and overtime, allow the wet land to dry out due to a better dispertion of water to the neccessary areas.