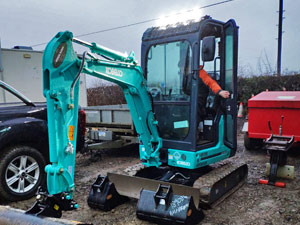 The latest member to the fleet is our new Kobelco SK017sr mini digger. This machine has enabled us to take on smaller projects for customers in the private/domestic sector. At just under 2 ton our mini digger is easily transportable by a 4x4 and trailer. It can reach customers who require operated plant hire in Haverfordwest, Pembrokeshire and Carmarthenshire in good time and with very low delivery costs.
The SK17 is a mini digger with a difference!

The new mini excavator has expanding and contracting tracks that reduce its width to just 1 metre wide!.

This enable access through tight areas such as garden footpaths and gateways for example. The machine is also available with a range of attachments such as;-
Concrete breaker - Pecker
Flail mower
Land rakes
And full range of buckets.
Kobelco SK17 Specifications
Short Tail SwingThe combination of side-ditch digging function and short tail radius makes it easy to dig next to walls with a compact operating footprint.
Retractable Tracks - 990mm extended to 1,320mm
Easy Extendable Blade
Machine weight 1,665kg
Max Digging Depth, 2,380mm
Max Digging Reach, 4,120mm
22L Fuel Tank - Super Fuel Efficient
Download the Kobelco SK17 Brochure Here >>


Mini Digger and Mini Dumper Hire Pairing
Complimenting our latest mini digger is our mini dumper hire.
The digger and dumper pair is the perfect tool for removing soil out from tight spaces to load a a skip or trailer. Our newest mini digger and skip loading mini 2 tonne dumper have proven to be the first choice for some local home owners who are carrying out;-
Garden maintenance,
Driveway excavation,
Land drainage,
....and also builders and property owners who are requiring Groundworks services.
Some of the latest projects carried out consist of clearance of;
An overgrown garden. Using the combination of mini excavator and 4x4 pickup with tipping trailer, we were able to reduce ground levels and take muck away of the garden in preparation for excavation of building foundations.
Widening of a driveway and re surfacing with type one aggregate for vehicle access.
Another example is a garden overgrown and on a steep gradient. As the mini digger could reduce its size, we gained access via a garden path and cleared overgrowth. We then removed a section of bank and stripped soil back. Using a cut a fill method we cut the clay and sub soil to level, starting from a level shelf building up and compacting in layers. Once complete the topsoil was spread level and a separation wall was constructed from rock dug out of bank to complete the garden.
Other projects in progress include;-
Muck away and construction of patio areas
Drainage repairs and diversion in small garden at back of property
Demolition of concrete garden walls and a garden extension with flower beds and block paving.
Working as a larger Plant hire and groundworks contractor plus our years of site clearance experience. We can put all of these skills and knowledge into practice in the tightest of spaces to achieve the best results, in a strict budget and in good time.