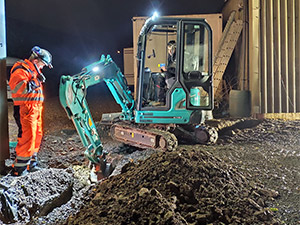 At the end of 2019 we were thrilled to win another new contract on our doorstep in Pembrokeshire meaning ongoing groundworks into 2020.
The contract itself is made up of a few parts but the majority of the work will see us undertake groundworks for a local communication company. - Communic8. Their portfolio of 21 communication tower sites will see our range of plant machinery be utilised across Pembrokeshire but also as far away as Swansea, Cardiff and up to Mid Wales towards Newtown and Brecon.
The contract was awarded to us based on the back of previous work we'd carried out for the company. In October last year (2019) we were called in overnight to carry out emergency drainage work for a small 12m tower sited at one of their locations. Due to severe weather at the time, the ground was waterlogged and they required immediate access for their vehicles and HGV to move equipment and site a new communications cabinet. We dug out and laid new ducting plus improved ground Land Drainage by using a bed of 40mm clean stone and laying cable ducts in layers of sand plus pipe dressing to give the ground the best chance possible to drain away. Approximately 25m away a larger soakaway was created to take the trench water and nearby surface water. This was dug to approximately 1.2m and 3-4 tonne of 40mm clean stone added to ensure silt was kept to a minimum.
Providing a 24 Hour Emergency Excavator Callout is just one of the many ways in which we aim to go the extra mile, we have done this on numerous occasions before for clients so to us, it was nothing new. Within 45 minutes of receiving the call we were on site with a groundwork team, mini digger - Kobelco SK17 and necessary ground tools to ensure we could get the problem rectified for them. An image from the event is shown on this news article as new trenching was laid to divert surface water away from power and telecomms cabling.
The base of this emergency callout has provided us with a fantastic working relationship with them and to date, the footings of a new groundworks contract for them.
The New Groundworks Contract
We will be tasked with full land reclamation on 3 of their largest telecomms tower sites. This will include landscaping work, shaping and backfilling areas of land to bring levels up to formation. Flail Mowing Flail mowing thick overgrowth plus fencing the 3 sites with full industry spec security fencing. These will then be topped with barbed wire for an extra level of security to their infrastructure.
Other areas of groundwork will include trenching for antenna cabling, broadband ethernet cables and monitoring equipment plus for some cabin sites. Ducting for mains power, fibre cables and other utilities will also be required. Once completed we will create hard stone areas for tower climbers to have a neat and clean area to prepare for tower climbing.
Some sites will also need a full reshape and entrances widened for vehicles including their 4x4s plus mobile access equipment for cherry pickers (MEWPs). Allowing their staff to site antennas, dishes and recievers onto their towers.
For some of the more difficult locations, Some towers will require small perforated ducting to allow water to escape from the pipe work in the trenches whilst others will need solid wall pipe to protect their communication and data cables this will be achieved via herringbone drainage and large soakaways and silt traps for areas where needed.
As each location will vary, it was key for us to get an understanding of what was required to ensure fair and correct pricing. Over a number of weeks we held meetings to get a scope of works drawn up which led to them understanding we knew what was required for such a complex project.
We will be kept extremely busy over the next few months and more so, our range of plant machinery will be too. We will be utilising;-
SK17 Mini Digger (For small intricate work close to towers)
SK55 6 Tonne Digger for bulk of the groundworks
SK85 8ton Digger for land reclamation and earth moving
3 & 6 Tonne Dumpers
Providing the finer Details is what we do....
Upon being given the news of winning the work and finding out whilst we weren't the cheapest we still held great merit. It was great for us to know that our attention to detail on stone choice, local topsoil and also our plan to replant hedgerows was not missed in our appilcation. As we specialise in shaping and reinstating, we always try to ensure that we can enhance a project if budgets allow and at a bare minimum put the local area back to how it was when we arrived.