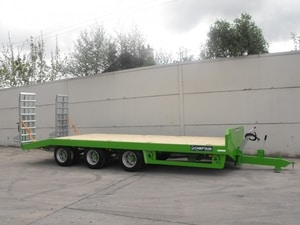 Predator Tri Axle Low Loader Trailer - For Sale, £13,000 plus VAT, check out more details on our trailer below.
Our yellow Predator low loader trailer is now for sale. The trailer is 12 months old and has been in our fleet and fully maintained since new. The trailer was purchased direct from Predator just last year and was built to our specifications.
The trailer has been well looked after and serviced whilst in use but is now surplus to requirements.
Predator Tri Axle Trailer Specs
Tri Axle predator Agri Low Loader.
12 months old - 2016 Trailer.
Air/Hydraulic brakes & load sense valve
Front hydraulic lift axle
Sprung Drawbar
Hydraulic ramps
All LED lights
Twin rear Amber LED warning lights
Tool box
Tyres 80%
Length: 27ft
There is only 1 slight issue with the trailer, a small dent to the headboard of the trailer which can be seen in one of the images. Simple to fix and does not impede the trailer and it's use in any way.
The trailer has only been used for plant machinery and attachements so general marks on the bed of the trailer are to be expected but otherwise in fantastic condition and ready for immediate use with a new owner.
The trailer will be perfect for those looking for a new low loader plant trailer or for agricultural use on farms/plant machinery.
If you're interested in purchashing this trailer or finding out more, Contact Us via the website or via our contact details on the same page.
Price: £13,000 plus VAT.