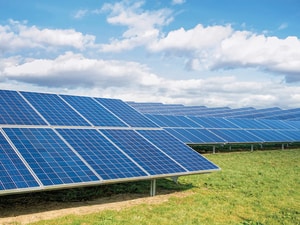 We recently won a new land reclamation and remediation contract taking us away from our base in Pembrokeshire to the welsh capital of Cardiff. As a specialist excavation company that pride ourselves in the land and groundwork we carry out, to win another solar farm contract was great news to us.

The new contract in Cardiff required our Doosan DX63 and DX140LCR Zero tail swing excavators which were were sent to Cardiff to carry out Solar Park Land Reclamation and remediation for a site which had been left in an untidy state following solar park work by the site contractors.
We had both excavators on the remediation work carrying out work to remove clay which had been spread across topsoil stopping the new grass from forming. Many areas of the solar farm had to have the tops of the ground stripped off and prepared for new fresh topsoil, prior to carrying out new grass seeding to finish the site properly for both the landowners and the solar farm owners. Many areas of the ground had also been left rocky and uneven making it unsightly and not practical to tend to the land for mowing and general upkeep of the land.
Once the excavators had been able to scrap off the rough areas of both stone and clay. The excavators were then working alongside tractors and dump trailers bringing in the new topsoil to build the land back to the given levels and reinstating access roads between the solar farm transformer buildings and customer housing.

Some areas of the site had to have site compounds removed and the stone stockpiled to reclaim the land ready for topsoiling and seeding, on some areas of the site we were able to reuse the reclaimed compound stone to give parking for electricity board vehicles plus repair some site roads which had been poorly constructed, this giving our client an additional saving on more stone.
-------------------
We have carried out multiple land and ground reclamation contracts not only across South Wales but also across the UK. We're extremely pleased to be specialists in ground and land reclamation and that our specialist excavators give our clients not only an aesthetically pleasing finish to the work but also are efficicent in the work they carry out. Which when compared to standard excavators further saves our customers and clients money.