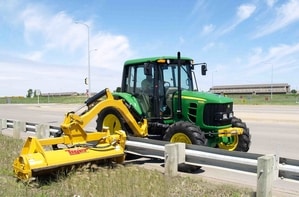 We recently undertook a new contract for another new customer in Pembrokeshire. This time, we were asked to visit the customer at a site in St Ishmaels in Pembrokeshire to reclaim land for a proposed development. The land was hugely overgrown and our customer had other contractors lined up to carry out work on the site.
After visting the site and the work with our new client, it soon became apparent that the scale of the work was more than just gaining access to the site. Nearly all of the land needed reclaiming, trees felling, land leveling and various changes to the hedge banks.
We put a price into the client for a JCB Fastrac with Flail Mower Hire, our Doosan DX63 Excavator to remove the tree stumps and level land. The DX63 was the perfect digger to hire to the job for it's Steelwrist could complete both sets of work faster than a traditional machine.
The complete contract
Gain access to site via field entrance and reduce overgrowth in the whole site
Remove tree stumps and hedgebanks plus reinstate new hedgebanks.
Open the area by leveling ground and removing bushes / small trees.
Reclaim land in dense undergrowth and scrub area to land border to maximise the land.
Dig ground test holes to allow ground investigation services to take place for the development.
Tree felling work and wood chipping into existing headland boundaries to help wildlife.
If you have land that's overgrown and it's too much for a bush cutter or strimmer. Flail mowers make light work of thick scubland and overgrowth. We work for both private customers and commercial clients.
If you're a land owner of agricultural land. We can provide hourly or weekly hire rates to ensure you can stay on top of your land.
Read more about Flail Mower Hire or if you wish to discuss your potential jobs directly with us, give us a call. Details on our contact us page.Contact Us